Medicinal and aromatic herbs
Over 100 species of medicinal and aromatic herbs, wild-collected and cultivated. Processing to customer's request - mechanical processing, tinctures, liquid extracts, oil extracts...
Filter tea bags

For every taste, from classics such as mint, chamomile, rose hip to new flavors of green tea with jasmine. And from recent, our new brand of top quality infusions called LORDS ...
Herbal syrups
Primrose, thyme, marshmallow, echinacea, plantain... Syrups for soothing cough, expectorants, and strengthening the immune system.
Broncho-san syrups in the new package, and the good old quality...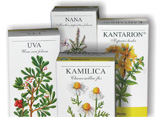 Loose tea
For true fans and connoisseurs of the herbal tea, we have whole chamomile flowers, whole mint leaves... Both for pleasure and prevention.
Medicinal herbs in Serbia
Serbia, as part of the Balkan Peninsula, is characterized by extremely high floristic diversity and vegetation, and stands as one of 158 centers of the world's biodiversity.

This area can be considered as one of the centers of diversity of medicinal plants, which occur not only in the meadows, pastures and forests, but also within the rare plant communities of specific biotopes. The exceptional diversity of flora and vegetation refers as so and to the resources of medicinal and aromatic plants.

Wild medicinal species occur in very different habitats, from wetlands, to high mountain tundra. In broad terms, the medicinal and aromatic plants are a group of over 700 species.

Cultivation of medicinal plants in our region is linked to the beginning of last century. Mostly grown are chamomile, lemon balm, valerian, mint, hyssop, thyme, coriander, cumin, selenium, artichokes, anise, marshmallow, echinacea and other.